Case-based discussion
Clinical audit
Communication and consent
Keeping CPD Records
Objective Activity
Patient feedback
Your guide to the new CPD scheme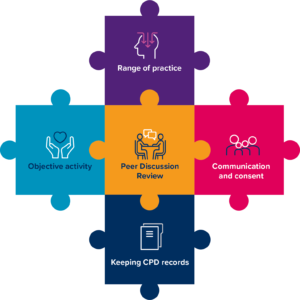 COVID-19: Please note the process of verification and assurance (referred to on page 9 of this booklet) has been put on hold. We will no longer be contacting a sample of osteopaths at the end of their CPD year for the time being.  
Your guide to the new CPD scheme provides a brief introduction to the new CPD scheme that launched in October 2018. It contains helpful information, useful tips and plenty of links to further resources to help and support you in meeting the requirements of the scheme.
We sent these booklets to all existing registrants once they started on the new scheme
We also produced a very similar version: Your guide to the CPD scheme aimed at new registrants, and is added to registration packs as new osteopaths join the register.
You might also be interested in this pocket guide to CPD, which you can download here.