Keeping CPD Records
Keeping CPD records Workbook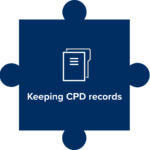 This workbook has been prepared to support osteopaths in keeping their CPD records. You might choose to keep your records in your personal CPD Diary which is available on the My CPD section of the o zone.
The new system also allows you to use other methods to record your CPD if you wish and we explore these methods in this guide.
Templates
This version was updated in October 2019.