Communication and consent
Communication and consent Workbook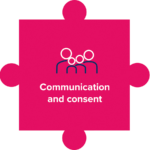 This workbook has been prepared to support osteopaths in undertaking a CPD activity in the area of communication and consent.
Osteopaths must undertake at least one CPD activity relating to communication and consent during their three-year CPD cycle.
Download an editable Word version if you would prefer this format.
This version was updated in November 2019.