Peer Discussion Review
Exploring Peer Discussion Review with Kent and East Sussex osteopaths
Rachel Heatley
Rachel shares her experience of a recent presentation to Kent and East Sussex Osteopaths Group on Peer Discussion Review.
With the majority of osteopaths now in the final year of their three-year cycle, focus is turning towards completing the Peer Discussion Review (PDR) so these osteopaths can move into their next three-year CPD cycle. This new focus has been reflected in the increase in the number of requests we have been receiving from CPD groups for sessions on this topic.
Delivering the session
A recent invitation came from Claire Piper, Regional Lead of the Kent and East Sussex Osteopaths (KESO) Group. Claire asked us to come along to an online meeting of the group to explain how to do the PDR, answer questions and provide reassurance about how supportive and beneficial the PDR can be.
I delivered the session to around 50 members of the group. The presentation we give on PDR has evolved over the past year and incorporates feedback we have received from osteopaths via numerous webinars, emails and phone calls.
We dispel myths that have arisen, with some osteopaths mistakenly thinking that the PDR is a test or that there is a pass or fail – this is not the case. We clarify what the process entails and walk osteopaths through what an example of a completed Peer Discussion Review template looks like.
A new addition to the session arose from recent queries we received on how best to make the peer relationship work and how an osteopath and peer can agree to disagree if the PDR isn't going as well as hoped.
We have developed a resource which can help osteopaths who might need to navigate a situation in which a peer doesn't think an osteopath has done enough to meet a CPD requirement and the osteopath disagrees.
Giving and receiving feedback
We also discussed giving and receiving feedback and examples of open questions that peers could use to encourage reflection. Many osteopaths who took part in the CPD Evaluation Survey said an aspect of the PDR they were most nervous about was giving feedback and they weren't sure how to do it effectively.
If you are in this position too, one way to help you ease yourself into your PDR is to familiarise yourself with the mechanisms of feedback and we've produced a short video on the topic to help get you started.
PDR is designed to be a supportive process
Ultimately the key for a successful peer/osteopath relationship is setting out respective expectations, agreeing ground rules and trying to view the PDR as a learning opportunity for both osteopath and peer.
It's designed to be a supportive process in which both osteopath and peer can develop reflective practice. It's also an opportunity to hear what challenges others are facing and perhaps overcome them together, therefore helping to facilitate support, build communities and maintain expertise within the profession.
Do get in touch
If you are part of a CPD group and would like us to come along and talk to your colleagues, do get in touch. As well as answering questions on the CPD scheme we are keen to find out more about any other issues you want to raise with us and we can share with you what's on the regulatory horizon.
If you don't yet belong to  a local or regional osteopathic group, you might want to check out local groups in your area. If there isn't one near you,  you might want to think about setting up your own?
To learn more about Peer Discussion Review you can watch a recorded webinar we did earlier this year: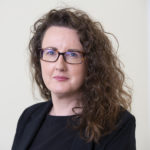 About the author
Rachel Heatley
Rachel Heatley is GOsC's Senior Research and Policy Officer